EVBRES (EVidence-Based RESearch) was a four and a half year (October 2018- April 2023) EU-funded COST Action CA-17117 forming a research and development network promoting collaboration and capacity buidling for EBR. Working with a wide range of stakeholders this international European-based network raised awareness of the EBR approach (the need to use systematic reviews when planning new studies and when placing new results in context) in clinical research.
Why is an EBR approach important in clinical research
When earlier studies are not considered in a systematic and transparent way when justifying and designing new clinical studies:
Too many redundant studies are performed and published – leading to the waste of time, resources and money
Too many patients receive unnecessary placebo, or treatment which is incorrect or suboptimal – leading to the waste of health and life
When new results are not placed in the context of earlier similar trials in a systematic and transparent way:
New results of a single study will bias the real results based upon all similar trials including the new study
Medical reversal will happen as new interventions may be introduced in the clinic without real effect
The recommendation that further studies are needed may be wrong and lead to new redundant studies.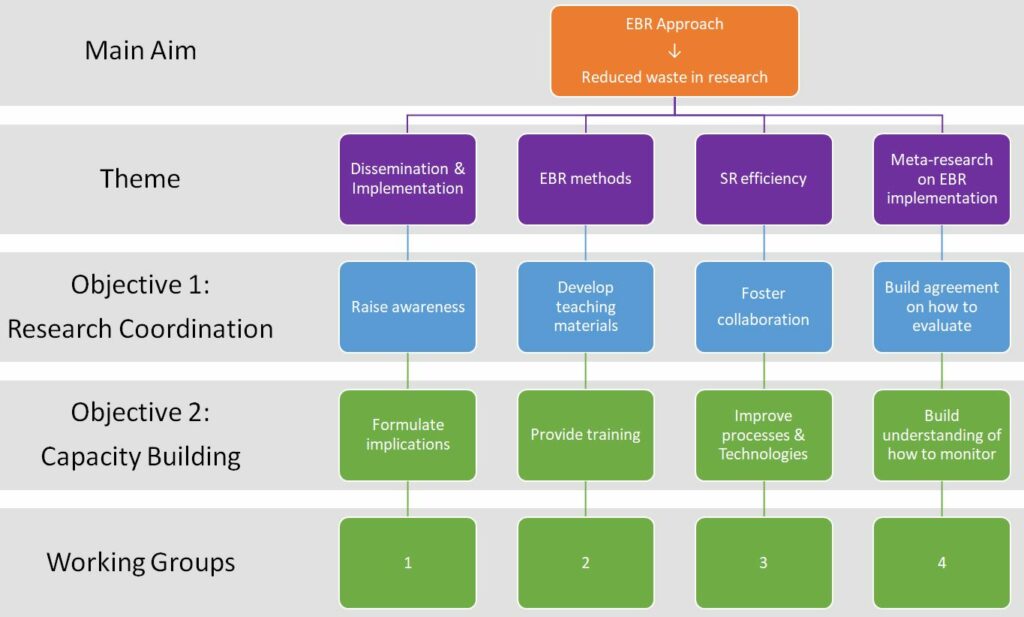 To achieve the goals of the EVBRES COST Action four working groups were set up each with specific objectives. Find out more
The Final Achievement Report, pubished on the COST website, contains details of the deliverables of this project and the results achieved.
Important publications from EVBRES
For dissemination purposes the EVBRES COST Action produced a White Paper for the European Commission "The need for an Evidence-Based Research approach in health science"
Funding from COST allowed for the translation of the seminal article "Towards Evidence-Based Research" into French, German, Slovak, Croatian, Serbian and Russian. A complete list with links to all available translations (including Chinese, Italian and Spanish) is available here.
What are the effects of teaching Evidence-Based Health Care (EBHC) at different levels of health professions education? An updated overview of systematic reviews
M M Bala, T Poklepovic Pericic, J Zajac, A Rohwer, J Klugarova, M Valimaki, T Lantta, L Pingani, M Klugar, M Clarke and T Young
Resource use during systematic review production varies widely: a scoping review
B Nussbaumer-Streit, M Ellen, I Klerings, R Sfetcu, N Riva, M Mahmić-Kaknjo, G Poulentzas, P Martinez, E Baladia, LE Ziganshina, ME Marqués, L Aguilar, AP Kassianos, G Frampton, AG Silva, L Affengruber, R Spjker, J Thomas, RC Berg, M Kontogiani, M Sousa, C Kontogiorgis,G Gartlehner on behalf of working group 3 in the EVBRES COST Action
Systematic reviews are rarely used to inform study design – a systematic review and meta-analysis
Birgitte Nørgaard, Eva Draborg, Jane Andreasen, Carsten Bogh Juhl, Jennifer Yost, Klara Brunnhuber, Karen A.Robinson and Hans Lund
A systematic review of meta-research studies finds substantial methodological heterogeneity in citation analyses to monitor evidence-based research
Birgitte Nørgaard, Matthias Briel, Stavri Chrysostomou, Danijela Ristic Medic, Sandra C. Buttigieg, Ele Kiisk, Livia Puljak, Tina Poklepovic Pericic, Wiktoria Lesniak, Joanna Zajac, Hans Lund and Dawid Pieper
Systematic reviews are rarely used to contextualise new results – a systematic review and meta-analysis of meta-research studies
Eva Draborg, Jane Andreasen, Birgitte Nørgaard, Carsten Bogh Juhl, Jennifer Yost, Klara Brunnhuber, Karen A.Robinson and Hans Lund
Delphi survey on the most promising areas and methods to improve systematic reviews' production and updating
Mersiha Mahmić‑Kaknjo, Vicko Tomić, Moriah E. Ellen, Barbara Nussbaumer‑Streit, Raluca Sfetcu, Eduard Baladia, Nicoletta Riva, Angelos P. Kassianos and Ana Marušić
Other EBR Resources
The following are available from the EVBRES website:
– The EVBRES Flyer and Poster
– EVBRES publications including The Towards EBR article (& translations) and the JCE series on EBR
– The White Paper on "The need for an EBR approach in health science"
– Past copies of the EVBRES Newsletter
– Introductory presentations on EBR and EVBRES
On the EVBRES videos page you will find, amongst other things, a link to our EVBRES YouTube channel which has all the videos from all 3 EBR conferences (2020-2022) and a link to a free webinar on How to conduct EBR made for Elsevier Researcher Academy by Hans Lund and Klara Brunnhuber.